The iOS 6 Features everybody's keeping quite about!!!
iOS 6, your cup runneth over. The new future brain of your iPhone and iPad is lovelier than ever.
A new Share screen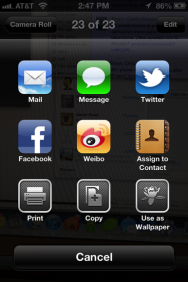 In iOS 5, when you tap to share a photo, you get a long list of sharing actions to choose from—whether it's posting to Twitter, sending an email or iMessage, or some other option. iOS 6 adds Facebook sharing as an option, along with sharing to various Chinese social networks. But Apple decided against cramming more buttons into that panel.
Instead, iOS 6 presents you with a new, icon-based sharing screen. It uses icons to represent the apps and services that you can share your content with and looks quite a bit like the iPhone's home screen.
New Siri functionality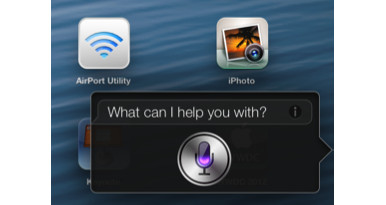 Flagship features added to Siri include the voice-driven personal assistant's arrival on the third-generation iPad. Siri also gains the ability to answer questions about sports and movies in iOS 6, and it will be integrated with turn-by-turn directions in Maps. But the virtual assistant gains several other new features as well that might have escaped your attention.
In iOS 6, you'll be able to compose new tweets and Facebook status updates with Siri—and both capabilities appear to be implemented smartly: If you link your friends' Twitter usernames to their Contacts entries, Siri automatically translates their real names as you dictate. That is, if I say, "Tweet 'Excellent dinner last night with Shahim Khan, Shahid Shaikh, and Maged Ragaei,'" Siri will automatically compose a tweet like "Excellent dinner last night with @skhan, @sshaikh, and @maged."
On the new iPad, Siri can answer questions about weather and stocks, even though Apple hasn't (yet) ported its Weather and Stocks apps to the iPad. Apple did show a glimpse of a new default Clock app for the iPad, so we won't be shocked if Stocks and Weather finally make the leap to the big screen before iOS 6's official release, too.
Spotlight tweak
If you have lots of apps, sometimes it's hard to figure out precisely which homescreen they're located on. In iOS 6, Spotlight makes that at least a smidgen easier, by listing the name of the folder a particular app is nestled inside when it appears in the search results.
Reminders improvements
Apple introduced the Reminders app in iOS 5, and it looks to score some helpful updates in iOS 6. Apple says that you'll be able to set location-based reminders from the iPad. Even better, you'll be able to tap in addresses where you'd like to be reminded manually, a feature currently missing from Reminders; at present, you can only set reminders for locations linked to addresses for your existing contacts.
Also new in Reminders will be the ability to reorder your tasks as desired. And Apple told developers that iOS 6 includes a new Reminders API, which should make it possible for third-party apps to integrate with the Reminders database. That means that you could use Siri to set Reminders which would in turn be visible in your third-party task management app of choice.
Call rejection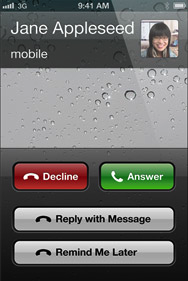 Sometimes, you can't take a call when your iPhone starts ringing. You can already quickly send a call to voicemail by tapping the Ignore button, but iOS 6 adds more powerful options for when you're too busy to answer. When your phone rings, you'll see a button on the screen akin to the new camera shortcut on the lock screen in iOS 5.1—a switch that you slide up to trigger.
When you do so, you'll see options to send the caller a message, or to remind yourself to call the person back later. If you choose to send a message, iOS offers several default options; you can also save custom responses. Your iPhone will then attempt to iMessage or SMS the caller with your note, while also sending them straight to your voicemail.
Other features
Near the end of the iOS portion of the keynote, Apple showed a slide listing a host of other features included in the iOS 6 update. Among those were Game Center challenges, the ability to connect Game Center friends from Facebook, VoiceOver improvements, personal dictionary in iCloud (for adding your own terms to the dictionary, which can sync between devices), and per-account signatures in Mail. Also on the list was improved privacy, which—as a new option in Settings—will let you control which apps can access which bits of personal data, like your Contacts, Calendar, or Photos. Other features on the list included autocorrection for every keyboard, Bluetooth MAP support (which is commonly used to help cars better offer hands-free communication with Bluetooth devices), kernel ASLR (which aims to make data even more impervious to snooping from malicious attackers), custom vibrations for alerts, redesigned stores (for the App and iTunes stores), IPv6 support for Wi-Fi and LTE, word highlights for speak selection, improved keyboard layouts, alarms with songs, and faster JavaScript in Safari. Apple also says iOS 6 includes a global HTTP proxy option, which would supplant the current approach, limited as it is to per-connection proxy settings.
Other features for developers include audio and video sampling during playback, Pass Kit (for interacting with Passbook), VoiceOver gestures, the ability to control camera focus and exposure, a Web Audio API, Game Center in-app experience, game groups, video stabilization, frame drop data, pull-to-refresh on Table views, a means of supporting in-app purchases of iTunes Store-hosted content, in-app Bluetooth pairing, remote Web Inspector, rich text on label fields and text views, CSS filters, crossfade with CSS animations, and a face detection API.
But what about the unsung stuff? Here are the coolest quiet additions.
Wake up to a song
Marimba gets a little stale. Now you can select any song on your iPhone as an alarm from within the Clock app. Ride of the Valkyries works well, as does anything by Waka Flocka. Beach House and Fiona Apple aren't quite as conducive to getting your ass out of bed. There have been apps offering this for years, but now it's built in, and built in is better.
Power privacy
This one's simple: there's now a list in settings of all the apps that have requested access to your location, contacts, calendars, reminders, and photos. Turn on or off access as you see fit.
Your (weird) words saved in the cloud
If you repeatedly use a word that's not in Apple's standard dictionary—like "basketball face," or calling your girlfriend "squeezybooty," your phone will stop trying to correct you and just add it to the list of real words. Now this list of all your slang, inside jokes, and abbreviations, will be stored on iCloud forever, across devices.
A modern iPod
The Music app ditched its old skin for a darker, simpler, monochromatic getup. It functions the exact same, but steps closer to OS X in appearance. Maybe you'll like it more than the old look—if not, you'll quickly forget what the old look looked like, anyway.
Bonus: Remodeled iTunes/App Stores
Talk about stale! The stores on your phone were never easy to get around: too many lists, too many sections, too much scrolling. In iOS 6 they get a chic makeover, highly reminiscent of the glamorous Apple TV storefront. The new stores also add clever horizontal scrolling through lists and categories, which is less of a pain and allows for a more digestible spread of information on a non-television screen. Featured albums, apps, videos, and the like are all sorted together with big eye-easy graphics. It won't cost you any less, but you'll spend less sanity on your downloads.
Tons of new emoji
All emoji are good emoji. And the old iOS 5 set was pretty great. But just look at the artistry and detail in each of these teeny tiny animals. Notice the chicken's softly shaded feathers. The poodle's regal pose. That blow fish! Now return to your old iOS 5 emoji animals—they basically resemble balloon animal heads with beaks.
App update history
As part of its total overhaul to the App Store, The Big A is introducing a complete history of updates for every app, so you can see, for example, precisely when the Orange Bird was added to Angry Birds Seasons.
New app banners
Your iOS Home screen now wraps a dashing "New" sash over recently downloaded apps, reminding forgetful features editors to actually, you know, play their newly purchased games.
Pull to refresh in mail
A tiny bit of UI magic, made popular by Twitter apps. To refresh your inbox, just drag the list down and then ping it back. Developers can borrow the feature for their apps.
IPv6 support
The IP address tap has almost completely run dry, so the web is anxiously moving to IPv6 – a system with 340 trillion trillion trillion addresses to share. iOS 6 adds support for these new 128-bit locators.
Custom signatures
You can now set a separate email signature for each account on your device. Plus, use bold, italic, and underline to really emphasise that this email was sent from your iPhone.
Retina shutdown spinner
Okay, one more. A bonus, for the most pedantic of the pedants. For the most eagle-eyed observer. The little spinning icon that appears when you shut down your device is finally Retina enabled. Best. Feature. Ever.
New Clock app
The iPad now has a new Clock app of its own.